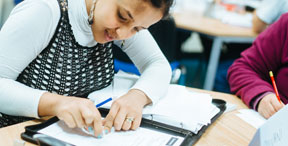 English and Learning
CLEAR ESOL classes are suitable for a range of learners, including those who have never spoken the English language before. CLEAR is an approved Adult Learning Provider and offers a range of short courses which are primarily aimed at increasing the skills needed for work and volunteering opportunities for our client group.
Volunteers
CLEAR relies on volunteers to provide much needed extra capacity alongside its paid staff in many different roles and across all services. We see great value in volunteering as a progression route for clients who are looking for work experience in the UK to add to their CV, or as a way for them to meet people, make friends and practice speaking English.
No, they aren't.
In the mind of the public when asked about who the immigrants are, respondents were most likely to think of asylum seekers (62%) and least likely to think of students (29%).
But the opposite is actually true. Latest statistics from the Migration Observatory show that in 2015, students represented the largest group of non-EU migrants to the UK (41.7%) while asylum seekers were the smallest group (7.8%).
No, they don't.
Since 2003, asylum seekers have been forbidden from taking any paid employment, and are not eligible for any of the mainstream benefits enjoyed by British nationals. They are therefore forced to rely exclusively on a Home Office asylum support payment of £37.75 per week to meet all their essential living needs.
This is just over half the equivalent level of Income Support (£73.10), and means that people seeking asylum cannot adequately feed their families, buy warm clothes, or pay for transport, toiletries or childcare. They can't live with dignity.
No, they don't.
Asylum seekers do not live in council housing, nor are they eligible to be on council housing lists, and they cannot claim housing benefit.
They are sent to live in properties around the UK which are maintained by private management companies under contract to the Home Office. They get no choice as to where they will be housed, and may be transferred to a property in another city at any time during the time their asylum claim is being processed.